Archbishop SIMON of Brussels and Belgium
Birthday 7 December
Name Day 29 January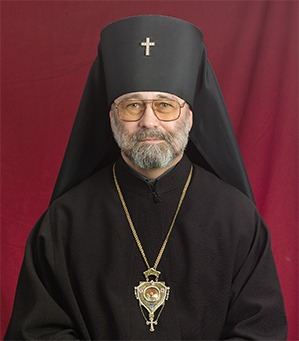 Archbishop Simon (born Vladimir Ishunin) was born on 7 December 1951 in Leningrad (now Saint Petersburg) into a priestly family. On finishing his secondary education, he entered the Theological Seminary and Academy in his home city, completing his studies in 1979.
On 17 January 1975 he was tonsured a monk by Metropolitan Nikodim (Rotov, + 1978) of Leningrad and Novgorod, taking the name of Simon (in honour of the apostle Simon-Peter). On 19 January 1975, in the Cathedral of the Holy Trinity of the Laura of St Alexander Nevsky, he was ordained a monk-deacon, and on 13 June 1976, priest-monk.
Between 1975 and 1978 he was private secretary to Metropolitan Nikodim.
From 1978 to 1981 was assistant to the inspector and a teacher at the Seminary and Theological Academy.
In 1981-1982 he was a monk at the monastery of New Valaam in Finland.
In 1981 he presented his master's dissertation in the History of the Russian Church on the topic "His Eminence Metropolitan Nikodim of Leningrad and Novgorod (life and activity)."
In 1982 he was raised by Metropolitan Antony (Melnikov, + 1986) to the rank of archimandrite and appointed rector of the Cathedral of the Exaltation of the Cross at Petrozavodsk and dean of the churches of the diocese of Olonets.
By decision of Patriarch Pimen of Moscow and of the Holy Synod of 23 March 1987, archimandrite Simon was appointed bishop of Brussels and Belgium on 23 March 1987. On 10 April 1987, on the eve of Lazarus Saturday, in the church of St John the Theologian of the Leningrad theological schools he was appointed a bishop. His episcopal ordination, on 11 April 1987, was presided by Metropolitan Alexis of Leningrad and Novgorod (Patriarch Alexis II).
Since 30 August 1991 he has also administered the diocese of The Hague and the Netherlands.
On 20 February 1994, Bishop Simon was raised to the rank of archbishop.
In December 2001 he was awarded to order of Saint Sergius of Radonetzh (2nd class).
In april 2007 he was awarded to order of Saint Great Prince Daniel of Moscow (2nd class).
In september 2011 he was awarded to order of Saint Seraphim of Sarov (2nd class).
---
Address: Rue des Chevaliers, 29
1050 Brussels, Belgium
Tel/fax : +32.2.513.33.74
---